Watersports
Surrounded by water Scilly is the perfect place to enjoy a range of watersports, whether you are a novice or have previous experience, there's something to suit everyone.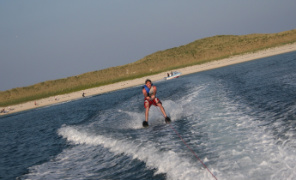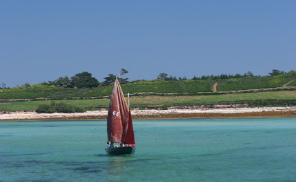 Diving
Diving in the Isles of Scilly is a mixture of reef and wreck diving, and some very scenic sites. There are dives to suit all abilities on steeped reefs but also for the more advanced diver there are walls of 50 metres and canyons. Tidal current is strong in the isles and they are close to the Gulf Stream meaning there is a rich variety of marine life including vibrantly coloured jewel anemones, corals and sponges. The water is very clear so generally you will find the visibility very good (between 10 and 30m), although bring high powered torches to view the best of the micro marine life.  There are 150 dive sites to choose from, in a small area around the islands which only covers 10 miles by 6 miles.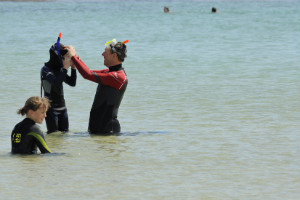 Sites include the Western Rocks- a pinnacle with a 60m wall dive, Gilstone- a staircase of rock carpeted with vivid anemones and dead man's fingers, Menawethan- a small island which is home to a lot of grey seals and Gap Point- large boulders on the sea bed and a wall which rises 15m and is scattered with coral and sponges. The wrecks include wooden and steel ships and many are well preserved including fixtures and fittings, canon balls and anchors. Wrecks include the Cita 15-40m from 1997, Italia 13-40m from 1917, Plympton 1909 and Hathor 17-48m from 1920. A lot of the wrecks have growths of coral and pink sea ferns, and attract pollack and wrasse.
Seal colonies are the other main attraction; these animals are incredibly playful and enjoy the attention from snorkelers and divers. You may also find porpoises, dolphins and basking sharks in the waters. If you book snorkelling in the Isles of Scilly with one of the local qualified instructors, all equipment will be provided. If you are a diver and are travelling with your own equipment most divers take the ship from Penzance and there is a container for diving gear that is loaded onto the ship. The dive season is May to September.
www.divescilly.com
www.scillydiving.com
www.divesitedirectory.co.uk
Sailing
There is a sailing centre on St.Mary's who run RYA courses of 2 days, or hourly lessons. The water in Scilly is beautifully calm and clear and a pleasure to sail whether you are a novice or an experienced sailor. The courses include instruction on basic rigging, launch and recovery, sailing techniques and basic aerodynamics theory. It is also possible to have an accompanied day sail, by the hour, half day or day when you can be taken out for a sail by a qualified instructor and have a go if you feel like it! www.sailingscilly.com
Windsurfing
There are often good sea breezes in Scilly which make it idyllic for windsurfing; there are lots of sheltered bays and shallow areas for novices to learn, and also lots of open water for the more experienced windsurfer. There is never too much passing boat traffic as the islands are small so you have lots of space to learn. Breathtaking scenery and crystal clear waters makes windsurfing the ideal sport in Scilly. Taster sessions of 1-2 hours are available as well as 2 day courses.
Power Boating
See the islands at high speed by taking a power boat course with RYA qualified instructors. You will learn launch and recovery, basic boat handling techniques and navigation between the islands. The stunning scenery around the islands is the perfect backdrop for exploring the quiet waters and seeing the marine life first hand.
Boat Hire
Sailing boats, dinghies and kayaks are available for hire if you would like to tour the islands at your own pace. All hirers are provided with safety equipment and given comprehensive instruction on boat handling.
If you are staying on Bryher, Tresco or St.Martins:
www.bennettboatyard.com
If you are staying on St.Mary's or St.Agnes:
www.sailingscilly.com