St.Martin's
The third largest of the islands, St Martin's is approximately 2½ miles long, and boasts some of the finest beaches and clearest seas in the British Isles. It is the first island you see when visiting from mainland England. It has a character similar to Tresco, with the rugged cliffs and purple heather of the north shore contrasting the more sheltered southern shore with its array of sandy beaches, clear blue sea and flower fields.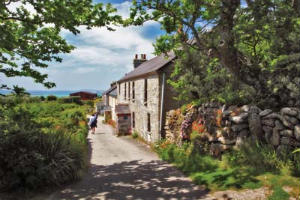 When approaching St Martin's, you can't fail to notice the red and white striped circular granite tower, known as the "Daymark" standing prominently on the Northeast corner of the Island. Built in 1683, it is one of the earliest surviving examples of a Beacon (a navigational aid used by sailors).
St Martin's has one Post Office/General Stores, two cafes, a bakery and two quays. There are still the remains of many ancient burial chambers that can be found hidden amongst the rocks and bracken.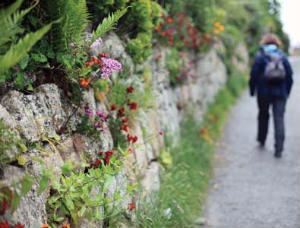 St Martin's is made up of three settlements, Higher Town, Middle Town and Lower Town. Lowertown quay is used at low tide. St Martin's Campsite is situated between Lower Town and Middletown. Higher Town has the high water landing quay, bakery, tea rooms and general stores/post office. It is approximately a mile from Lower Town Quay to Higher Town Quay.
The three main beaches on St Martin's are: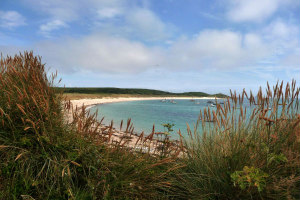 Lawrence's Bay - this is a favourite for families who enjoy exploring the rock pools at low tide, picnicking in the dunes or just relaxing on the gently shelving sand that gives way to the shallows over St Martin's Flats. The long sandy beach stretches from Lower Town to Higher Town.
Par Beach - the first beach you see if you land at Higher Town, ideal for a family day out at the beach, with safe swimming and spectacular views.
Great Bay - situated on the north side of St Martin's, and is popular for its raw beauty and remoteness, it is one long stretch of creamy sand and blue sea. This beach was recently voted Best Beach in the UK, and is listed in the Rough Guide's Top Ten Beaches in England.
There are daily boat trips from St.Martin's run by St Mary's Boatman's association to the other off-islands.
For views of St.Martin's see our St.Martin's photo gallery
St.Martins Directory
St Martin's General Stores/Post Office
Visitors coming to St Martin's for their holiday can send a shopping list in advance for a grocery order to be ready for their arrival.
We stock a wide range of groceries, including frozen and chilled goods and an off-licence, tourist guides maps and gifts. Catering for all your needs whilst enjoying your holiday on St Martin's.
St Martin's Store summer opening hours:
Monday to Saturday 9am - 5.30pm
Sundays 9am-10am

Post Office summer opening hours:
Monday 9am-5pm
Tuesday 9am-5pm
Wednesday 9am-12.30pm
Thursday 9am-5pm
Friday 9am-5pm
Saturday 9am-12.30pm
Website: www.stmartins-stores.co.uk

St Martin's Vineyard and Winery
St Martin's Vineyard and Winery is a unique coastal vineyard working towards organic production of white, red and rose wines. Explore our wildflower-filled fields and finish your tour with a tasing flight or our wines. Take a bottle home from our cellar door shop or enjoy a glass of wine right here on the vineyard! Self guided touris begin at our visitor centre and take you through the site and up to the top field with panoramic views out over the Eastern Isles and the Daymark before returning for al fresco wine tasting in front of the winery. The nine Vine Stops will introduce the site, the vines, the wine making technique and the unique aspects of the site as well as some of the fauna and flora which call this vineyard their home. The wine tasting is an opportunity to try out still while, red and rose wines creasted from the grapes grown in the fields and crafted in the onsite winery. There is also an opportunity to buy the wine as well as our vineyard apple juice and other local produce at the end of your tour. Children and well behaved dogs welcome!
Website: www.stmartinsvineyard.co.uk/tours-and-tastings
Booking while not essential, would be greatly appreciated to avoid a delay at busy times whilst we undertake cleaning between visitors
Polreath Tea Room, Higher Town
A tea room since the 1950's, Polreath has been run by Sarah, Jason and family for over 20 years. Enjoy delicious home-baked cakes, cream teas and Moomaid ice cream in their plantsman's garden, ariy conservatory or traditional Scillonian glasshouse.
Open 11am - 4.30 pm Sunday to Thursday; May to September. Closed Friday and Saturday.
Website: www.polreath.com


St Martin's Diving Services
St Martin's Diving Services offers snorkelling with seals - this three hour trip allows you to have a close encounter with a seal! All the equipment is provided and an instructor will be in the water with you. The minimum age is 8 and all children need to be accompanied by an adult. For those who would like to snorkel from the shore we offer a snorkelling safari where you can explore the wonderful underwater world of St Martins. Fish, anemones, crabs and starfish can all be seen just metres from the shore. The trips are lead by a marine biologist, also qualified as an advanced diving instructor, who will provide full instruction on how to snorkel.
We also offer try dives for people who would like to have a go at scuba diving. This involves on-shore training with a qualified British Sub-Aqua Club advanced diving instructor, before moving into shallow water off a sheltered beach. The dive will reach only 2 metres but a wide variety of colourful marine life can be seen in the clear waters. No experience is needed, but a certain level of health is required.
As a premier British Sub Aqua Club school, St Martin's Diving Services offers Ocean Diver and Sports Diver courses. The Ocean Diver course lasts for five days and takes you from complete beginner to a safe and confident diver able to dive in open water up to 20m anywhere in the world. For those that have a diving qualification, dives can be arranged to suit all levels of experience. We are not however, able to offer guided dives.
Telephone: 01720422848
Website: www.scillydiving.com

St Martin's Campsite
A family run 4 star campsite nestled behind one of the many tropical beaches for which St. Martin's is so famous. A spacious; sheltered site, offering freedom and privacy accompanied by comprehensive and spotlessly clean facilities. At St Martin's Campsite there is free WiFi access, full laundry facilities, gas exchange/sale, free phone/laptop charging points, freezers, basic camping supplies, and transport of your luggage to and from the site,. St Martin's campsite is only moments away from local fresh produce stalls and numerous local eateries. St Martin's Campsite is the perfect base from which to enjoy St. Martin's and explore the rest of Scilly.

Telephone: 01720422888
Email: This email address is being protected from spambots. You need JavaScript enabled to view it.
Website: www.stmartinscampsite.co.uk

North Farm Gallery
North Farm Gallery; based in a converted granite barn in Higher Town next to the St Martin's Bakery, sells original artwork by local and visiting artists along with a wide selection of prints, art cards, books, locally made crafts and jewellery.
Open every day except Saturday from 10am to 5pm, or by appointment.
Telephone: 01720423028
Email: This email address is being protected from spambots. You need JavaScript enabled to view it.

Fay Page Jewellery
Contemporary jewellery from Scilly. Husband and wife team Fay & Rob Davis work from a workshop in their back garden on St. Martin's. Solid silver shells, shoals of fish that hang on handmade charm chains all reflect that bit of Scilly sparkle. Commissions and wedding rings undertaken too. Scilly stockists: - The Foredeck St. Mary's; The Bulb Shop, St. Agnes; Ashvale Gallery, St. Martin's.
Website:www.faypage.co.uk
Churchtown Farm
Visitors who stay at Churchtown are very welcome to visit our working flower farm just next door to the cottages to see the pinks and narcissi being picked, sorted, packed and dispatched. Hilary and Andrew Julian turned around the fortunes of Churchtown Farm in 1993 when after trying to make a living sending flowers to the wholesale markets they hit upon the idea of selling their flowers direct to the public by post and "Scent from the Islands" was born. The business grew rapidly beyond their wildest dreams and soon they were employing several staff, buying scented narcissi from other farmers on the islands and thinking about expanding. New buildings followed, there were new cold stores, more staff and still the business kept growing. It was at this time that Ben and Zoë, Hilary and Andrew's son and daughter-in-law, offered to come back to Scilly to help in the business. They now run the business with just a little interference from their parents! This is a family business and an island business and we believe we owe a large part of our success to these two factors. We hope that our future lies in the family - Rosie and Piran - our children/grandchildren and in the wonderful island of St Martin's.
Telephone: 01720422169
Email: This email address is being protected from spambots. You need JavaScript enabled to view it.

Ashvale Gallery
Watercolour paintings by Patrick Ley-Greaves, Lower Town, St Martin's. Open hours: 10 am to 5 pm, or by appointment.
Telephone: 01720422544

Adam's Fish and Chips
Adam's Fish and Chips started up in July 2003, at Little Arthur Café, at first opening the café for fish and chips for just a couple of nights a week. It turned into a great success, regularly serving seventy people a night! The menu is simple, fish, chips and peas, or lobster "scampi" chips and peas. At the heart of Adam's Fish and Chips is sustainable fishing, carried out in local waters. The lobster comes from one of Adam's 250 lobster pots, the fish, usually pollock, is line caught from Adam's boat "Resolution", the potatoes are grown on Little Arthur Farm and are hand-peeled. You can take away or eat in. The café is appealingly unfussy with six or seven wooden tables with benches, in an attractive conservatory which over looks Higher Town Bay. The beautiful simplicity and high quality have not gone unnoticed, in 2004 Adam's Fish and Chips was a finalist in the "Best Take-Away" category of the Radio 4 Food and Farming Awards. In 2008 they were the winners.
Opening hours: Tuesday and Thursdays only 6.00 pm to 8.30 pm. (Booking recommended).
Telephone: 01720423637

Little Arthur Farm
Situated at Higher Town; Little Arthur is a family run, mixed farm - set in 12 acres of farmland, growing organic fruit, vegetables and herbs, used in their own Wholefood Café which sells freshly baked homemade food. There is also a wide range of animals on the farm, including, pigs, goats, cows, sheep, ducks, geese and chickens.
Little Arthur Homemade Shoes
Made-to-measure shoes, using natural fibres, are produced in the wind powered workshop on Little Arthur Farm; most of the footwear is unisex.
Telephone 01720422457
Email: This email address is being protected from spambots. You need JavaScript enabled to view it.

Sevenstones Pub
Situated at Lower Town, the Sevenstones is the only pub on the island, serving coffees/teas and light lunches during the day, and bar snacks in the evenings, with fantastic views from the terrace of the other islands.

St Martin's Bakery
This small traditionally run bakery, which can be found at Higher Town, was the winner of the BBC Radio 4 Food and Farming Awards, "Best UK Food Retailer 2002". Producing a wide range of English and continental breads; pastries; tarts; pies; filled rolls and salads.
During November and between January to April St Martin's Bakery run holiday baking courses for those who wish to enjoy the pleasures of making breads, pastries and pies in this beautifully unspoiled and tranquil setting.
Website: www.stmartinsbakery.co.uk
Boat trips
Boat trips from St Martin's to the other islands are now run by Tresco Boat Services. For general information on trips and prices call them on 01720 423373 or check out their website www.tresco.co.uk
Scilly Organics
Fresh fruit and vegetables organically grown over three acres of land spread around Lower Town and Lawrence's. Jonathan Smith has been producing first class fruit and vegetables since 2003, after finishing his horticultural degree at Reading University and moving to the Islands full time. Beginning with just three-quarters of an acre, Scilly Organics is slowly increasing. The organic fresh fruit and vegetables are sold on a roadside stall in Middletown with just an honesty box to put your money in. From Easter until the end of October the stall is filled daily with the very freshest of goods, all picked that very morning. Everything is transported from the fields to the stall by foot.
Website: www.scillyorganics.co.uk