St.Mary's Boatmen's Association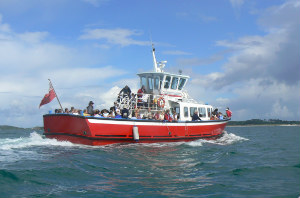 Boats working from St. Mary's come under the umbrella of St. Mary's Boatmen's Association. There are 10 boats each carrying between 72 and 100 passengers. Each boat is owned and operated by its skipper, but the Association enables them to work together to provide visitors with the best possible service. The Association caters for visitors staying on St. Mary's and for day trippers. Tickets are available locally but there is no need to rush and buy boat tickets in advance because of limited capacity. The 10 Association boats have a combined seating capacity of over 800 and if one trip fills up another boat will help out.
The ticket kiosk on the quay is always open from 9.30am - 10.15am and again from 1.30pm - 2.00pm, prior to the main departure times of 10.15 and 2.00. The boats are called Britannia, Golden Spray, Guiding Star, Kingfisher, Meridien, Osprey, Sapphire, Seahorse, Seaking and Surprise. Off island trips are offered every day to allow you to spend a day on any island with a choice of return times, and several multi island combinations are possible. These include Tresco and Bryher, Samson and Bryher, and Tresco and Samson. Two or three circular trips operate every day including options such as the Eastern Isles, Bishop Rock Lighthouse and the Western Rocks, Annet (bird sanctuary), the Norrard Rocks, Round Island Lighthouse, around St.Mary's and landing on St.Agnes or Tresco, Seabird Special and a Cruise in the Past with commentary by local expert Katharine Sawyer. Evening trips include a St.Agnes service for a meal or drink, a Shearwater Special with commentary by local ornithologist Will Wagstaff, and the twice weekly gig race. A range of fishing trips and pelagic trips are also available.
Telephone: 01720423999
Email: This email address is being protected from spambots. You need JavaScript enabled to view it.
Website: www.scillyboating.co.uk
Fares 2013 - all valid for departure from St.Mary's
| | |
| --- | --- |
| Return to Tresco, Bryher, St.Agnes or St.Martins | £8.40 |
| Circular Trip | £13.00 |
| Bishop Rock and Seabird Special | £16.00 |
| Cruise in the past | £13.00 |
| Two Island Trip | £13.00 |
| Evening Trip to St.Agnes | £7.00 |
| Gig Race | £5.00 |
Dogs are 50p per trip
Buy 10 or more tickets and save £1.40 per ticket - ask at the ticket kiosk for details.