Trinity House / Lighthouses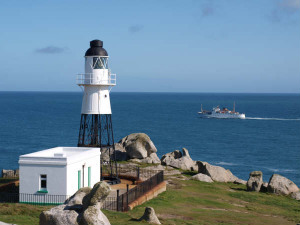 Trinity House is the General Lighthouse Authority for England, Wales, the Channel Islands and Gibraltar. It is responsible for 69 lighthouses in total, all of which are now automated. There are 3 working lighthouses in Scilly (and one disused lighthouse on St.Agnes).
Bishop Rock is perhaps the most famous, situated on a rock ledge 46m long by 16m wide, 4 miles west of the Scilly. The rocks rise sheer from a depth of 45m and are exposed to the full force of the Atlantic Ocean making this one of the most hazardous and difficult sites ever for the building of a lighthouse. Bishop Rock was converted to automatic operation during 1991 with the last keepers leaving the lighthouse in 1992. Bishop Rock is visible on the horizon from St.Agnes, Bryher, Tresco and St.Mary's.
Round Island, the most northerly outpost of the Scillies is a 40m mass of granite with a lighthouse, living quarters and engine room build on top. You can see Round Island well from Tresco and St.Martins. The lighthouse is now unmanned and the functions are checked by automated telephone system twice a day.
Penninis Lighthouse on St.Mary's was established in 1911 when it superseded the lighthouse on St Agnes which had been in operation since 1680. It is 14 metres high and flashes every 20 seconds with a range of 17 nautical miles.