St.Agnes Boating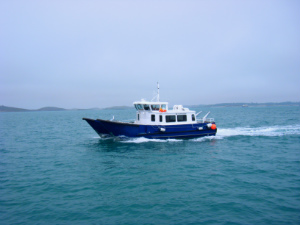 St.Agnes Boating is a family run business offering year round passenger ferry service using two boats, the Spirit of St. Agnes and the Enterprise. The Spirit is a modern purpose built catamaran capable of carrying 80 passengers, whilst the Enterprise is a traditional single hull boat.
St.Mary's trips are daily from April to November leaving St. Agnes at 10.15am and 3.15pm and returning from St. Mary's at 12.30 and 4.30pm (4.00pm on Saturdays), with regular weekly or bi-weekly trips to Bryher, Tresco and St. Martin's. Also offered are fishing trips and wildlife tours of the uninhabited islands. It is a perfect chance to get to see birds and seals in their natural habitat - they are completely unperturbed by the boats. Special trips can be arranged to other islands for that special night out, a romantic boat trip for just two or a family picnic to an uninhabited island. The Spirit of St.Agnes also follows the gig race on a Wednesday and Friday night. Fares are paid in cash, on board; there is no need to book in advance unless specified.
Telephone: 01720422704
Email: This email address is being protected from spambots. You need JavaScript enabled to view it.
Website: www.st-agnes-boating.co.uk
Fares 1st April 2012 - 31st March 2013: prices valid for departure from St Agnes.
Saver Fares:
Weekly pass: travel on any scheduled service for one week for £32.00 per adults, £16.00 per child and £90.00 per family. This pass does not include Circular; Fishing Trips or Special Charters, but does include gig races. Non transferable and non refundable. A form of photo i.d is required to be shown as well as the pass on all trips.
Family day trip saver fare: Travel to any of the other islands on any scheduled day trip for £22.00. This price inculdes two adults and up to four children.
| | |
| --- | --- |
| St.Mary's Return | £8.40 |
| Bryher, Tresco or St.Martins Return | £8.60 |
| Gig Race | £5.00 |
| Short trip to the Western Rocks | £14.00 |
| Circular Trips e.g. Bishop Rock Lighthouse | £15.50 |
| Fishing Trips Including Rod Hire | £15.00 |
| Day Out to Uninhabited Islands | £15.00 |
| Special Charter (8.00 to 20.00) | £32.00 |