Tresco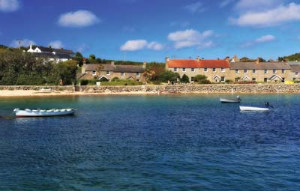 Tresco is the only privately owned island in Scilly, and perhaps the most famous. It has been leased by the Dorrien Smith family since 1834. 2 miles long by 1 mile wide it lays claim to some of the most diverse attractions, from ancient castles, well maintained woodland areas and farm pastures to sub-tropical gardens. Tresco's beaches are arguably the best in Scilly, long stretches of fine white sand on the eastern side, overlooking the sheltered sound to St.Martins and the uninhabited eastern isles. The Western side of Tresco is where the main settlement surrounds New Grimsby Harbour and it is here you will find the chic cottages of the Flying Boat Club with grand leisure complex, tennis courts and sea views. Also at New Grimsby, Tresco Stores, the New Inn and Gallery Tresco. On the opposite side of the island at Old Grimsby, The Sea Garden Cottages sit impressively above the private hotel beach built on the site of the Island Hotel, these cottages can be self-catering; half board or bed and breakfast with adjoining restaurant and recreation facilities.
The internationally renowned Abbey Gardens foster over 20,000 varieties of exotic plants from New Zealand, Africa and Brazil and well as the Mediterranean. Due to the mild climate in the islands, long hours of sunshine and the high walls protecting the gardens from the Atlantic winds they remain beautifully preserved and able to support unusual flora for Cornwall. The Abbey Gardens is one of the top attractions for Scilly, and brings in tour groups and cruise ships which have a great impact on the economy. The splendour can be appreciated by botanists and non enthusiasts alike. An archway remaining from a 12th century priory founded by Benedictine monks remains in the Abbey. Also Valhalla should not be missed, where a collection of figureheads from shipwrecks of Scilly is displayed.
The Great pool on the south end of the island, just inland from the Abbey Gardens, is a serene setting for wildlife enthusiasts where you can linger in the purpose built huts on the pool's edge and watch the bird life on the calm water.
The northern end of Tresco is great expanse of heather moorland which many people enjoy walking as it presents great opportunity to enjoy the view to the picturesque islets of Tean, St.Helens and Northwethal as well as the more rugged northern rocks including Men-A-Vaur, Golden Ball and the magnificent Round Island Lighthouse.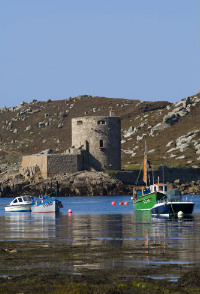 Pipers Hole is also situated at the northern end of the cliffs, which begs investigation from the more intrepid visitor. It is a cave which extends eighty meters under the island - a legendary hideaway for smugglers and mermaids- which opens out into a freshwater pool 10 metres across. You can discover by candlelight rocky arches and high chambers in the rock.
The history of Tresco is a treasure trove of myths (including the belief that King Arthur could have spent his final days here) and tangible remains such as the stone forts. The castles are perhaps the most fascinating exhibition of the past - visitors are welcomed and unlike many other antiquated sites in the UK, there are no entrance fees! Firstly Cromwell's Castle dominating the coast between Tresco and Bryher as guardian of the anchorage, is a cylindrical artillery tower built in 1651. You can climb the hefty granite steps up to the gun platform, look down into the dungeon and even reach the highest level on the top rim which as the watch station, has an excellent vantage point across the islands.
In an elevated position further up castle down, is the remains of King Charles' Castle, built semi hexagonal to take advantage of the widest possible range of fire and although not entirely evident now, was two stories of firing range. King Charles Castle had command over the northern entrance of New Grimsby Harbour but was abandoned in favour of Cromwell's Castle in 1651, and it is believed the Royalists demolished parts of it to re-use the stone to build Cromwell's.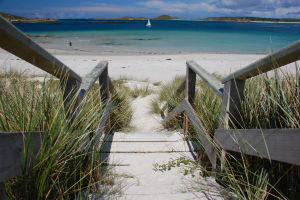 Blockhouse is the final contingent of the fortification, a gun tower protecting Old Grimsby Harbour, incredibly intact with large flat platform up the robust granite steps, adjacent downstairs chamber and excellent panoramic sea views.
Tresco has its own heliport so visitors can fly direct from Penzance.
For view of Tresco see our Tresco photo gallery
Tresco Directory
Website www.tresco.co.uk
Recommended independent website: www.tresco360.co.uk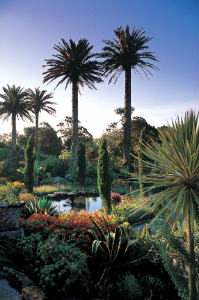 Tresco Abbey Gardens
A trip to Tresco wouldn't be complete without a visit to the world famous sub tropical Abbey Garden. Enjoy the unique collection of outdoor plants, many originating from the Southern Hemisphere, in 17 acres of beautifully terraced gardens. Also includes entrance to Valhalla, the National Maritime Collection of Ship's figureheads.
Open daily 10am-4pm Entrance £10
Telephone 01720424105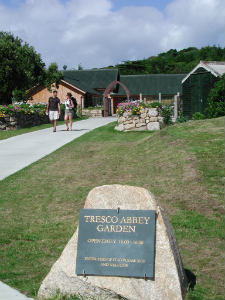 Garden Visitors Centre
The Garden Visitor Centre has a licensed café offering a selection of drinks and beverages, snacks and cakes with indoor seating and tea garden. The History Room tells the story of the garden and there is a wide range of souvenirs available from the Gift Shop.
Open daily 10am-4pm
Telephone: 01720422108
Bike Hire
With no public transport on Tresco, what better way is there to get around than hiring a bike from the Estate Office. Hire adult mountain bikes (available with child seats) and children's bikes. All terrain pushchairs are also available to hire by the day.
Open Monday to Friday 8.30am-12.30pm, and 1.30pm -5pm, Saturdays 8.30am-12 noon.
Telephone 01720422849
The New Inn
16 ensuite bedrooms, many with a sea view. Bar lunches and dinner served daily-see our specials board. Morning coffee from 10am, busy bar, and occasional live music. Twice yearly Beer Festivals, Cornish and Scillonian Real Ales. Open All Year. Meals served 12 noon- 2pm and 7pm-9pm. Extended hours March-Oct 12 noon-3pm and 6pm-9pm. Take aways available.
Telephone 01720422844
Tresco Stores
Tresco Stores offers an excellent range of foods- freshly baked bread, fruit and vegetables, wines and beers, Tresco reared beef, grocery and dairy including organic and gluten free products. Our extensive delicatessen counter is the perfect place to shop for a picnic. We also offer freshly made sandwiches, salads and hot snacks. Newspapers, magazines, postcards, suntan lotion and photographic film are among the many items stocked.
Open Monday to Friday 9am-6pm, Saturday 9am-5.30pm, Sunday hours vary.
Telephone 01720422806
Post Office
The Post Office offers the full postal service, last collection from the post box Monday to Friday 1pm. A cash service is also available.
Open Monday-Friday 9.30am- 4pm, Wednesday 9.30am-12.30pm
Telephone 01720424113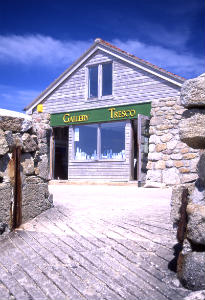 Gallery Tresco
Gallery Tresco features a wide selection of contemporary paintings and drawings by mainly Cornish artists who have taken the theme of the islands for their inspiration. We also stock beautiful pottery, glass and jewellery, handmade scarves and Scillies best selection of postcards, greeting cards and prints.
Open Monday to Saturday 9.30am-5pm, Sunday times vary through the season
Telephone 01720424925
The Sea Garden Cottages at The Island Hotel
Rated 9.5 out of 10 for the rooms by The Times; each of these luxury one bedroomed contemportary cottages is available on a nightly basis, offering the ultimate flexibility for guests. Choose to dine at the Mediterranean inspired Ruin Beach Cafe or cook for yourself. Three rates are available: half board, bed and breakfast or self-catering.
Alll cottages are beautifully appointed, with a large double bedroom, lounge and kitchen area, balcony or terrace. There is also a sofa bed downstairs suitable for young children. All cottages have sea views. Facilities include: tennis court, heated swimming pool, gym, Jacuzzi and sauna.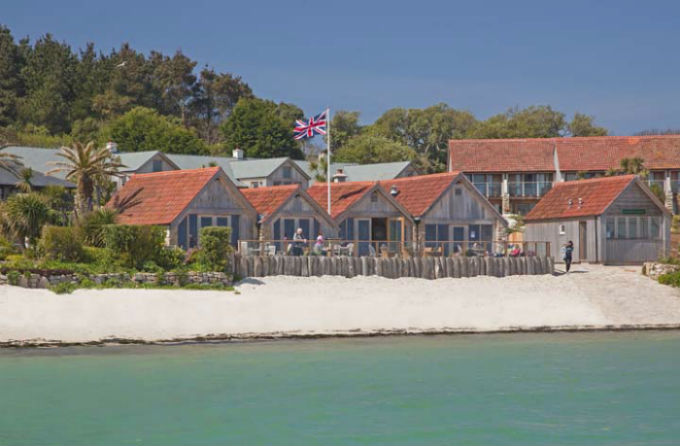 Ruin Beach Cafe
The Ruin Beach Cafe at Ravens Porth, Old Grimsby with its wonderful view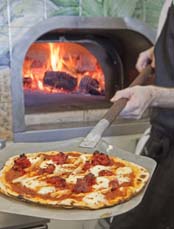 s twards St Martins and the Eastern Isles has a unique style featuring shell mosaics, original art and a wood fired over. It offers a Mediterranean inspired menu with a selection of wood-fired dishes, pizzas and salad.
Everyone is welcome at the Ruin Beach Cafe, which is open from 8am serving breakfast, lunch, afternoon cakes and dinner. Booking is recommended for breakfast and dinner.