Bryher & Tresco boat services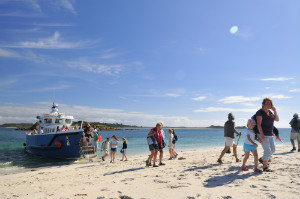 Tresco boat services is a business based on Tresco running trips for guests staying both on Bryher and Tresco. All boats are licensed by the Maritime Coastguard Agency. Fares are paid in cash, on board; there is no need to book most trips in advance unless specified. There are two quays on Bryher and three on Tresco so please check the board locally to see where the trips are departing from, as it is tide dependent. The boats include Cyclone, Hurricane and Lightning - three jet boats capable of speed while remaining comfortable.
Firethorn is the larger passenger boat and runs regular ferry services from Tresco and Bryher to the other islands. Trips run between Tresco and Bryher everyday, St.Mary's Monday to Saturday, St.Martins Monday, Wednesday and Friday and St.Agnes Tuesday, Thursday and Sunday. Firethorn also follows the gig race on a Friday evening during the gig season. Tresco boat services provide circular trips twice a week to the rocks and uninhabited isles for seal and bird spotting, including puffins from April to July. The other large passenger boat is Voyager which takes care of visitors staying on St Martin's offering daily trips to St Mary's and also out to the other islands.
Whatever your plans Tresco boat services will help you get the best from Scilly. Experience the islands your way and at your pace with a private boat charter, available all year.
Half day fishing trips are also available twice a week during the main season, all gear is provided and you are likely to catch mackerel, pollock or wrasse.
Telephone: 01720423373
Email:This email address is being protected from spambots. You need JavaScript enabled to view it.
Website: www.tresco.co.uk
Fares 2015 - all prices are valid from departing Bryher, Tresco or St Martin's
| | |
| --- | --- |
| St.Mary's, St.Agnes, St.Martins and Samson Return | £10:00 |
| Bryher and Tresco Return | £5.00 |
| Mini Circular, landing on St.Agnes or St.Martins, or Bishop Rock Lighthouse and Western Rocks | £15.50 |
| Gig Race | £ 6.00 |
| Cyclone/Hurricane One Hour Trip per person | £32.00 |
| Special Hire (8.00-18.00) One Way | £45.00 |
| Special Hire all other times One Way | £40.00 |
| Special Hire between Bryher and Tresco (8.00-18.00) One Way | £20.00 |
| Special Hire between Bryher and Tresco all other times One Way | £28.00 |
| Evening trips between Bryher and Tresco return | £ 6.00 |
| Private One Hour Scenic Trip up to 5 passengers | £150.00 |