St.Agnes
St. Agnes is only about a mile wide - one of the smallest of the five inhabited islands in the Scilly archipelago, and has a community of just 72 people.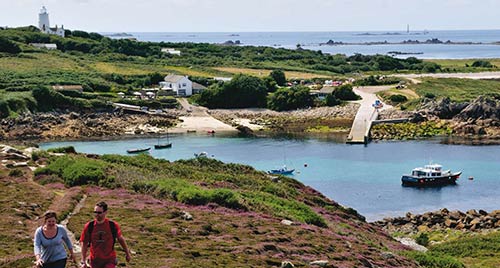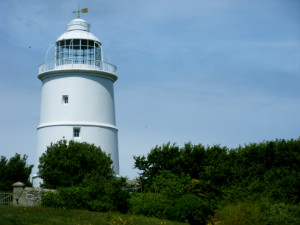 St.Agnes is joined to the island of Gugh by a tombolo (sandbar), which is traversable at low tide but cut off at high tide. Either side of this sand bar are beautifully sheltered bays ideal for swimming. Gugh also has much to boast - Kittern Hill rising in the north shows evidence of prehistoric dwellings and tombs including Obadiah's Barrow as well as remains of ancient field walls. Gugh is particularly famous for its nine foot standing stone named 'The Old Man of Gugh', believed to be a ritual Bronze Age boulder.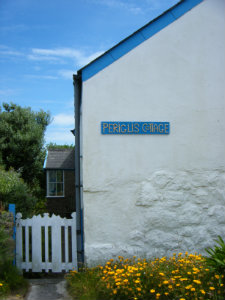 St Agnes lies west of the other islands and the waves crashing against the rocks is the most dominant sound as you wander the costal paths. This little island is vibrant with wildlife and wild flowers and if you crave escapism you will love it here. St.Agnes overlooks the uninhabited island of Annet, a designated Area of Outstanding Natural Beauty, with a massive bird community-the most famous of Annet's inhabitants is the puffin.
A lighthouse stands at the highest point of St.Agnes and is the most distinctive feature of the skyline but after 231 years of service it no longer contains a light and serves as a daymark only. Below this lies a mazy pattern of hedgerows and lanes, fields and pathways.
The Southern end of the island known as Wingletang Down is heather covered moorland, a beautiful place to walk with some fantastical rock formations including the famous Nags Head.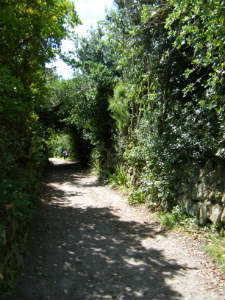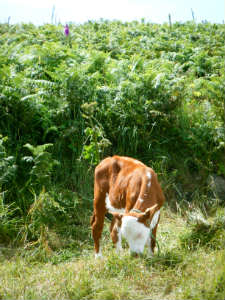 Troytown maze is another striking feature of St.Agnes not to be missed, built by a lighthouse keeper in 1729 (and since rebuilt) a spiralling maze of white washed beach stones on a grassy mound captures the visitors' imagination.
Beady pool is a favourite spot for treasure hunters where you may find glass and beads amongst the sand, enduring mementos from a Dutch merchant shipwreck in the 17th Century.
There are 3 main beaches on St.Agnes apart from the sandbar to Gugh. Covean beach has the typical character of a Scilly secluded bay, accessible through a narrow track through trees and shrubbery and a delightful place to snorkel. Periglis on the opposite side of the island has wonderful views and rock pools to explore. The campsite overlooks Periglis beach, and a camomile scented meadow nearby is where you'll find the cricket team playing. White par is a rocky cove where visitors have built towers from the granite beach rocks, and is quite a spectacle.
There is still some farming on St.Agnes, but the mainstay of the trade is tourism although it is the only island without a hotel. Accommodation is a choice of cosy cottages. A great destination throughout the season-in Spring you can see daffodils flowering in every hedge and in Autumn migrant birds frequent St Agnes, including many rare species. In the off peak periods you may find you have the island almost to yourself.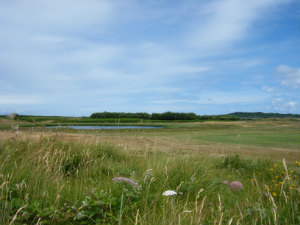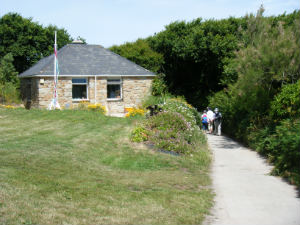 For views of St.Agnes see our St.Agnes photo gallery
St.Agnes Directory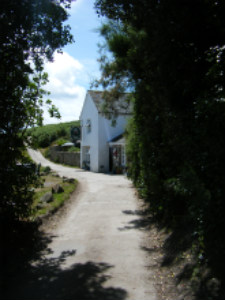 The Turks Head
Britain's most south westerly pub, serving real ales and offering a varied bar menu lunchtimes and evenings, including home-cooked daily specials using local seasonal produce when available, locally caught fish and crab, and of course, pasties.
Telephone: 01720422434
Email: This email address is being protected from spambots. You need JavaScript enabled to view it.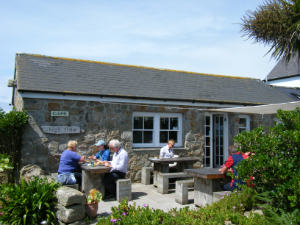 Coastguards Café
Yummy food and friendly people! We serve great coffee; homemade cakes, cream teas, lunches and treats all freshly prepared using island and Cornish produce. We can also make you a packed lunch for days out boating. Open everyday.
Telephone 01720422197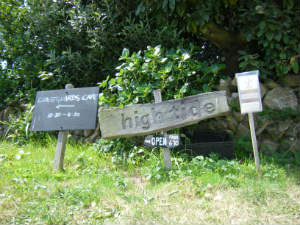 High Tide
High Tide Seafood Restaurant is a small casual fine dining restaurant on St Agnes serving the best of local produce from around Scilly & Cornwall, with fantastic views out over Bishop Rock Lighthouse making it the perfect venue for an intimate dinner for two or a private dinner for a small group/work function. We have a fine selection of hand picked wines that compliment the ever changing menu perfectly.
Telephone: 01720423869
Website: www.hightide-seafood.com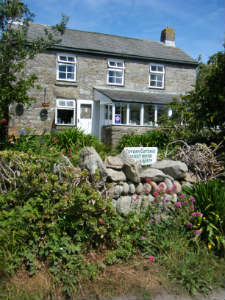 Covean Cottage Café
Overlooking the beautiful and secluded Covean Beach, Covean Cottage is a delightful guesthouse and tea room. The new owners, Liza and Olly, use as much local produce as possible in their delicious lunches and teas.
Telephone: 01720422620
St.Agnes Boating
We are a family run business offering an all year round passenger ferry service for the community of St. Agnes in the Isles of Scilly using two boats, the Spirit of St. Agnes and the Enterprise. We run daily services (during the Spring, Summer and Autumn seasons) to St. Mary's, with regular weekly or biweekly trips to Bryher, Tresco and St. Martin's. We also offer fishing trips and wildlife boat tours of the uninhabited islands. It is a perfect chance to get to see birds and seals in their natural habitat - they are completely unperturbed by the boats. Or why not try an exciting trip out to Bishop Rock lighthouse? We are happy to arrange a special trip to other islands for that special night out, a romantic boat trip for just two or a family picnic to an uninhabited island. On Friday and Wednesday evenings why not follow gig racing on the water with the gigs? Our boats follow each of the gig races - join the community in cheering for your favourite gig!
Telephone: 01720422704
Website: www.st-agnes-boating.co.uk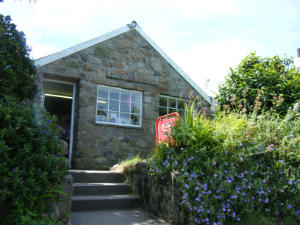 St.Agnes Post Office and Stores
Open all day for good food including local, organic and Fair Trade produce. We sell a wide range of greeting cards, postcards, traditional toys and gifts.
Telephone: 01720422364
Bulb Shop
Seasonal flowers and bulbs by post plus an interesting range of both locally made and fair-trade gifts. Open weekdays and Sunday (closed Saturday).
Telephone: 01720423002
Website: www.agnesflowers.co.uk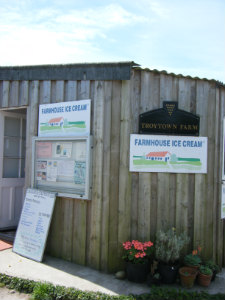 Troytown Farm Shop
A perfect place for a treat-Troytown Farm Shop sells ice cream, milk, yoghurt, clotted cream and butter all made in our micro dairy. We also sell delicious beef, pork and seasonal fruit and veg produced on the farm.
Telephone: 01720423713
Website: www.troytown.co.uk
Hellweathers Tea Garden
Come and relax in our garden with spectacular sea view. Try our delicious homemade cakes and scones. Situated next to the campsite, just along the lane behind the church. Open Tuesdays to Sundays 10am-4pm.
Telephone 01720422430
28 Miles
Beautiful soaps, shower gels and lip balms hand-made using essential oils distilled on our farm from plants grown on St.Agnes. Available at the Bulb Shop and St.Agnes Post Office and Stores.
Email: This email address is being protected from spambots. You need JavaScript enabled to view it.
The Little Island Chocolate Company
Delicious handmade organic chocolate delicately flavoured with essential oils from 28 miles. Available at the Bulb Shop and St.Agnes Post Office and Stores.
Email: This email address is being protected from spambots. You need JavaScript enabled to view it.
Pop Art Paintings by Emma Eberlein
Scilly flowers, rocks and views of Scilly as displayed at Coastguards Café/High Tide. Commissions welcome.
Telephone: 01720423869
Email: This email address is being protected from spambots. You need JavaScript enabled to view it.
Rebecca Smith Jewellery
Silver Crafted Jewellery from the Isles of Scilly. Rebecca's jewellery integrates the finest materials with those found locally. Scillonian shells, pebbles and seaglass are bound in silver and gold wire to create wearable pieces whose designs echo the natural shapes and forms of the unique location in which they are crafted. As well as the local materials mentioned, precious and semi-precious gemstones are used to give vibrancy and colour to the jewellery. Available across the islands. Commissions welcome.
Telephone 01720422056
Website:www.rebeccasmithjewellery.co.uk
The Rough Island Band CDs
Original music inspired by the extraordinary landscape and history of St.Agnes, played and recorded on the island. Available locally or online.
Website: www.roughislandband.com
Ruddy Shellfish
Lobster, crab and crawfish caught to order-call in at the Ruddy (opposite the phone box) for availability.
Tamarisk Farm Organic Produce
Organic fruit, vegetables and herbs harvested daily. Available seasonally from the stall outside Tamarisk and from St.Agnes Post Office and Stores.