Bryher
Our personal favourite as it's our home and location of our office! Bryher is a Cornish word meaning "land of the hills" and the rolling hillsides make for stunning scenery and vistas taking you on a journey of contrasts. Bryher is renowned for its natural untamed charm. Hell Bay the majestic indentation strewn with sentinels of rock on the Atlantic side is an essential stop on a fresh day, with a Westerly wind blowing. The other lee side of the island has a gentle breeze if any; there is no noise except for birdsong and the sea is untroubled in the serenity of Rushy Bay. Most of the roads are dirt tracks and sandy/grassy coastal paths, but some of the main roads through the town are concreted. There is farmland on Bryher cultivating local crops such as flowers, strawberries, potatoes and vegetables. You'll also find chickens, ducks, geese, ponies and cattle grazing the moorland.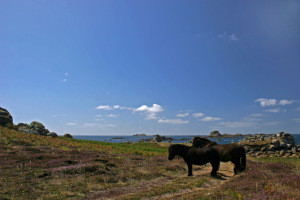 At the southern end of Bryher is Samson Hill, with a coastal path or hill top track, both of which offer views to Samson and the magnificent statuesque granite mounds of Castle Bryher and Maiden Bower and on to Bishop Rock Lighthouse. Samson Hill was the site of the birdman's cottage from the film "When the Whales Came", based on Michael Morpurgo's novel and filmed on Bryher in the 1980's. One solitary rock is now the only remaining evidence as the cottage was burnt down as part of the film's plot. There are also Bronze Age graves on Samson Hill for anyone interested in archaeology. The next hill is Heathy Hill, which is a gentle graduation of heathland protruding to the South West bordered by clumps of granite and the notorious Droppy Nose Point, a charismatic rock formation which also has a seal shaped rock on top- apposite as you are likely to see these inquisitive animals bobbing their heads out of the water in the nearby depths. Gweal Hill is on the west side of Bryher and is a great opportunity to stare out onto the expanse of Atlantic Ocean that stretches all the way to America. You are likely to find solitude and peace here before you embark onto Shipman Head Down and are absorbed by the hypnotic reverberation of the crashing waves.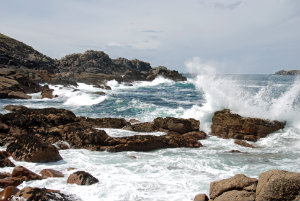 The Northern end of Bryher is rustic, ragged Scilly, emblematic of these small but enduring islands scattered amidst the relentless rolling seas. Some of the paths here are narrow and on the edge of precarious overhangs so please walk with care and note it is not suitable for buggies, wheelchairs or bikes. Hell Bay is the second cove- an awe inspiring sight of restless indigo water fringed with white foam, which leads around to the heights of Badplace Hill and the gully over to Shipman Head. The high tide cuts Shipman Head off from Bryher but it is accessible at low tide (although a fairly ambitious ramble over rocks and crevices). Nesting birds are common here between March and July so should be left undisturbed. Bryher also has one of the longest caves in Scilly, High Rock Cave, thought to be used by smugglers in historical times this is probably verified by the fact it is very hard to find! It is about 30 feet high on the northern cliffs and only 4 feet wide. The North of Bryher simulates the headland of Tresco which runs parallel so as you walk back along the Eastern side of the peninsular you can enjoy idyllic scenes of yachts swaying gently in the New Grimsby Harbour, and the imperial Cromwell's Castle nestled against the bluff. Watch Hill, almost centrally situated, is the highest point on Scilly and although a steep climb, you will be rewarded with the vast outlook across sea and islands at the summit.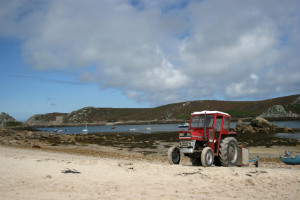 There are three farm stalls on Bryher, two selling eggs and local vegetables and one selling scrumptious homemade fudge! All Saints church on Bryher is worth a visit to admire the beautiful stained glass windows created by Oriel Hicks on St.Mary's. Through the middle of the island there is a small settlement whimsically known as the town, but really nothing more than 15 houses, a café and a phone box. The pub is 5 minutes walk on and recognisable by the friendly goat roaming around outside.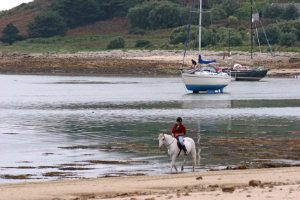 There are two quays on Bryher, the first often referred to as Church quay (as it's nearer to the church!) and the second known as Bar (or sometimes Annequay as it was built as a project on the BBC Challenge Anneka programme). Church Quay is used at high tide, and Bar is used for low tides, so if you are staying on Bryher you'll need to check the board daily to see where the trips are departing from. St.Mary's boats dropping off at Bryher for the day on a very low tide also use Rushy Bay, where there is no landing point so you are punted ashore and may have to wade the last few yards! Bryher also has a contemporary boutique hotel named after Hell Bay, an art gallery; an art gallery/craft shop; a chandlery; two boatyards so you can hire a small motor or sailing boat and explore the shimmering waters and coastline.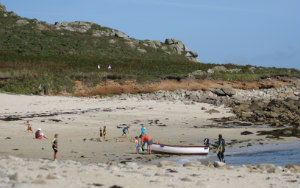 Top of the list of beaches on Bryher has to be Rushy Bay, a sheltered cove on the south side opposite the uninhabited island of Samson. Customary pristine white sands as well as private alcoves amongst the marram grass make this beach a favourite to islanders and visitors alike. The water here is very calm, shallow and clear so a perfect day out for the family where children can play contentedly at the shoreline (the bottom is sandy rather than rocky here) and parents can relax in the sun. There is reasonably good snorkelling around the rocks and kelp beds. Two other beaches facing south are Stony Par and Great Par, separated by Great Carn a structure of rock with photo opportunities from the top. The Great Pool lays inbetween Great Par and Popplestones bay, which is often home to graceful swans that migrate from the Great Pool on Tresco. Underwater you may find mullet and conga eel as this pool is sourced from the sea by a narrow leat.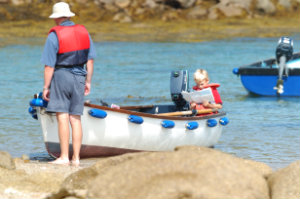 Popplestones, westward facing, is a generously sized bay characterised by hundreds of smoothly surfaced stones that have been shaped and polished by the lapping waves but also plenty of golden sand. Shell seekers will be happy with the offerings at Popplestones or Bar beach on the opposite side of the island, and it's a nice walk from the Bar to the Quay along Bar beach. Green Bay the other side of the quay is a superb beach facing the channel, with fantastic sand flats at low tide ideal for shrimping or hunting for sea life such as starfish, molluscs, anemones and baby crabs. When the tide is very low, you can walk across the sand bars to Tresco. Also on Green Bay you can discover sheltered spots under the tamarisk trees to settle down with a book, or sand dunes to recline on and watch the pleasure boats passing by.
For view of Bryher see our Bryher photo gallery
Bryher Directory
Bryher Boat Services
Bryher Boat Services is family run business offering regular ferry services from Bryher and Tresco to nature watching, private charter and thrilling jet boat rides. Firethron is the largest passenegr boat which operates the daily ferry services and has a capacity of 100, Faldore is licensed to carry 60 and is available for leisurely private hire and Cyclone and Hurricane are two jet boats capable of speeds of upto 20 knots. Bryher Boats offer a daily service between Bryher and Tresco, St.Mary's is advertised every day except Sunday, St.Martins and St.Agnes every other day and circular trips about twice a week. During the high season, high speed jet boat trips and fishing trips are also on offer.
Telephone: 01720422886
Email: This email address is being protected from spambots. You need JavaScript enabled to view it.
Website: www.bryherboats.co.uk
Bryher Campsite
Bryher Campsite is nestles in a sheltered valley between Watch Hill and the Northern headland of Bryher, with breathtaking sea views on both sides. Facilities include ladies and gents shower/wc buildings, freezer, washing machine, tumble dryer and gas is available to buy from the office in town. Mobile phone charging facility is also offered. The campsite is open from April to September.
Telephone: 01720422559
Email:This email address is being protected from spambots. You need JavaScript enabled to view it.
Website: www.bryhercampsite.co.uk
Fraggle Rock Bar and Café
England's most westerly pub and nominated a Jamie Oliver Best British Boozer. Every Fairtrade drink you purchase includes a donation to the Isles of Scilly Wildlife Trust. Morning coffees, lunches which include the famous crab double decker sandwich, with freshly picked Bryher crab, afternoon tea, beers on tap as well as bottled beers, wines, spirits and soft drinks. Dinner served most evenings, Friday fish and chip night and various entertainment nights in the summer season including live local bands and open mic nights. Friendly local staff, beer garden, upstairs restaurant with harbour views and comfy sofas downstairs. Open from 12.00pm until 11.00pm.
Telephone: 01720422222
Email: This email address is being protected from spambots. You need JavaScript enabled to view it.

Vine Café
Vine Café offers simple home cooked food and cakes, lunches available and evening meals are 3 nights a week and need to be reserved in advance. Ice creams and teas are available all day. Indoor and outdoor seating, lots of puzzles, toys, board games and card games are available for rainy days. Open from 10.00 am or 12.00pm until 4.00pm and evenings by reservation.
Telephone: 01720423168
Hell Bay
One of the UK's finest escape hotels, a dazzling setting for lunch in the voguish bar, afternoon tea on the terrace or dinner in the restaurant with sunset views. Menu includes local seafood and vegetables and the fine dining restaurant has been awarded 3 rosettes by the AA. Non- residents welcome but evening bookings are essential. Chic and family friendly, relaxed atmosphere. Gift shop available in Reception with Hell Bay logo clothing, locally made jewellery and cards and holiday souvenirs. Open to non residents from 10am, lunch served between 12.00pm and 2.00pm and dinner from 7.00pm until 9.00pm.
Telephone: 01720422947
Email: This email address is being protected from spambots. You need JavaScript enabled to view it.
Website: www.hellbay.co.uk

Golden Eagle Studio
Richard Pearce's art studio housed in an old gig shed building located on Great Par, with views over the Western Rocks. Paintings of sweeping beaches, sparkling seas and shimmering reflections. Prints and cards also available. Also, the new Studio Workshop/gift shop situated in "The Town" next door to Bryher Shop, for gifts and crafts. Also: craft workshops: classes on offer range from stencilling; paint effects; printing; card making and jewellery.
Open from 10.00am-5.00pm Monday to Saturday and 2.00pm-5.00pm Sunday.
Telephone: 01720423665

Bennett Boatyard
Small boat building, repair, maintenance, storage and boat hire are available at the Green Bay base. For hire are 14ft motor boats, small sailing dinghies, a gaff rigged day sailor and double and single kayaks. Hire is charged hourly, by the day/half day or week depending on what suits your requirements. Fishing lines can also be rented if you fancy catching your own dinner! There are also some boats for sale at the yard, and a small chandlery. Opening hours are flexible.
Telephone: 07979393206
Email: This email address is being protected from spambots. You need JavaScript enabled to view it.
Website: www.bennettboatyard.com

Bryher Marine Engineering
Situated near the main quay, Bryher Marine Engineering was started in 1992. Storing and maintaining outboard engines for locals and holiday makers alike. As main agents for Mercury Outboards, Bryher Marine Engineering sell new Mercury engines, with full warranty backup; 2nd hand engines – serviced and ready to go; also spare parts for all leading makes of engines are kept in stock. Open from 9 am – 5 pm Monday to Saturday.
Telephone: 07786235107
Email: This email address is being protected from spambots. You need JavaScript enabled to view it.

Veronica Farm Fudge
As featured at the local produce market, the home of Veronica Farm fudge on Bryher, sold from a stall on a farm track. Traditional farmhouse methods are used to make this soft, buttery vanilla fudge which is also available by mail order. The ingredients include Scillonian milk and butter with no additives or preservatives. Flavoured fudge is also available.
Telephone: 01720422862
Email: This email address is being protected from spambots. You need JavaScript enabled to view it.
Website: www.veronicafarmfudge.co.uk

Seafood
Mike and Sue Pender offer freshly caught lobster and crab from their home, Dawn Vue, as well as pre-prepared crab salads using produce from their farm stall.
Telephone: 01720422975

Hillside Farm
Two vegetable stalls, one at the farms base at Hillside and one near the Bar offer the freshly grown produce from this Bryher farm. From strawberries to potatoes, sunflowers, eggs, rocket, lettuce, onions, peas, broad beans, carrots and much more!
Telephone: 01720423156

Scillonia Boatshare/Bryher Boatyard
For regular visitors, the opportunity to timeshare a powercat specially designed for Scilly's waters. Twin 40hp engines and seating for 7 people. Maintenance, insurance, storage, fuel, moorings, safety equipment and accessories are all provided. Everything is included, even your water-skis and picnic basket.
Also: new for 2012, a chandlery/gift shop at Bryher Boatyard.

Telephone: 01720422702
Website: www.scilloniaboatshare.com
Bryher Shop
The new Bryher Shop opened on Saturday 18th June 2011; a new family run shop, providing an essential service to Bryher residents, day trippers and holiday makers' alike, using local produce for all five of the islands - from St Agnes milk and dairy produce to Bryher fudge.
Supplying a good range of essential groceries, fresh fruit and veg, sweets and ice creams. With a well stocked delicatessen, selection of cured meats and Cornish cheeses. Home baked fresh bread, rolls, pies and cakes are baked daily. There is also an off licence - selling wine, beer and cider.
Shopping can be delivered to your holiday accommodation on Bryher free of charge upon request. You can also shop online for delivery upon arrival.
Opening hours:
Summer: Monday - Saturday: 9am - 5.30pm; Sunday 10am - 1pm.
Winter: Monday - Friday; 11am-1pm and 3.30 - 5.30 pm; Saturday: 10am - 12pm.
Website: www.bryhershop.co.uk
Telephone: 01720 423601