Fishing
Fishing is available year round but the best fishing is May to early October, and is always tide and weather dependent. General shore fishing and spinning can be attempted on any island but the serious angler will want to try the deep water marks of St.Mary's (Peninnis and Deep point/Gap point) or St.Martins (Daymark headland).
By Boat
Most trips operate during the season from St.Mary's with the St.Mary's Boatmen's Association. If you're staying on an off island, ring the boating company as some trips operating out of St.Mary's will pick you up on the way. All tackle is provided and trips suit a range of abilities from novice fisherman and children to the more experienced angler. Trips are generally half a day and cost around £25-£30 per rod (rods may be shared). You can expect to catch mackerel, pollack and wrasse.
www.scillyboating.co.uk/fishing »
www.scillyfishing.co.uk »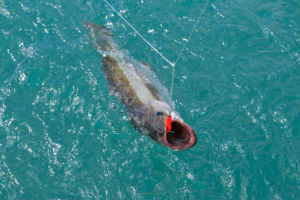 Shark fishing is also available from St.Mary's usually aboard Osprey or Kingfisher, but also as private trips Kestrel. Trips are run only during the summer months and take you a few miles from shore. A variety of sharks frequent the waters of Scilly including blues and porbeagle which probably account for 99% of the catch, but thresher and mako have also been caught. Most shark fishing will be done in small groups with a limited number of rods and using fish baits (mackerel flapper suspended below balloons or floats in a ruby dubby trail/chum slick). Interesting birdlife as well as porpoises and dolphins are often spotted on these trips.
From Shore
There are a variety of species you may target from the rocks (there is not much available from the beach) including mullet (golden-grey and thick lipped), pollack, wrasse, mackerel, whiting, dogfish, bull huss, conga, scad, codling, gurnard, ray, plaice and garfish.
Types of fishing
Float Fishing - Mullet can be caught on bread flake, small bits of mackerel or ragworm (for golden-grey). Wrasse can be taken on crab, sandeel and limpets etc. Pollack will take sandeel and garfish will take mackerel strip or bread. Float fishing is available from the harbour wall on St.Mary's, any rocky outcrops across the islands and mullet are usually caught from boulder covered beaches.
Spinning - Mackerel, Pollack and occasionally wrasse can be caught from most rocks and the harbour wall on St.Mary's; you may find the odd scad in the evenings.
Beach casting/rock fishing - There is no major beach fishing in Scilly but nearly all of the other coastline is granite rock where rough ground marks will yield good catches of pollack, conga, bull huss etc as well as ray, flatfish and codling in season on the cleaner ground marks.
Fly Fishing - Available in a number of spots in the islands for pollack, wrasse, mackerel and mullet though most locations have limited room for a back cast. Bring your own flies as there is not a dedicated fishing shop here.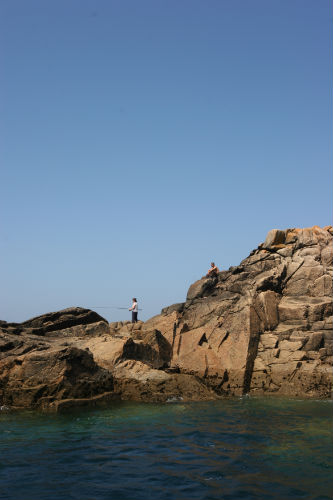 What you will need... tackle and equipment
A tide chart! Available locally in lots of outlets and the tide has a rise and fall of upto 20 feet so please check the tide times carefully and be wary of getting cut off on isolated headlands.
Most spots in Scilly require a challenging walk across coastal and rocky headlands so good boots/shoes with excellent grip are essential. Rocks can be extremely slippery due to changing tide levels and algae growth. Please be cautious and don't attempt to fish during or after rain as granite rocks become particularly hazardous.
You will also want a lightweight waterproof as weather is changeable here and showers can come and go quickly from the Atlantic.
Bait - including sandeel, squid, mackerel, lugworm and others occasionally. Crabs, limpets and lugworm can be collected from the rocks and beaches at low tide.
Recommended rods:-
Beachcasters - Stiff beachcasters capable of throwing 5-6 ounces plus bait
Spinning - 8-10 foot rods capable of throwing 15-60 grammes
Float Fishing - Light spinning rods/fresh water rods would be suitable
Fly Fishing - 5-7 weight rods with fast/intermediate sinking lines and large weighted flies for pollack and wrasse. Flies that work are clouser minnows, deceivers, charlies, surf candies and bait fish or crab imitations. Mullet respond to bread fly and maggot imitations.
Some Links
www.scillyonline.co.uk/fishing
www.henry-gilbey.com/blog/isles_of_scilly_here_we_come.html »
www. henry-gilbey.blogspot.com/.../some-big-isles-of-scilly-mullet.html »