Introduction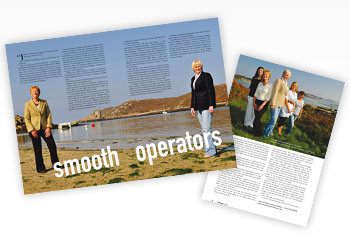 Kathy Stedeford the founder member of the company came to the islands in 1966 and worked as a receptionist at the Island Hotel on Tresco. After marrying and moving to Bryher, Kathy opened a campsite and became involved with the newly formed Isles of Scilly Tourist Authority in the early eighties.
In 1983, Isles of Scilly Inclusive Holidays started from Kathy's kitchen on Bryher, using the table and her ironing board as desk top surfaces! Kathy booked accommodation and travel by helicopter or boat for visitors to Scilly when the main industry in Scilly was shifting from farming and fishing to tourism, and therefore became quickly successful. With the introduction of the islands own airline in 1984 offering fixed wing flights from several West Country departure points, Kathy expanded to offer a second travel service to Scilly including plane fare and accommodation and named the company Scilly Breaks.
Inclusive Holidays and Scilly Breaks were then merged in 2003 to be known under the same name today offering every travel option, Isles of Scilly Inclusive Holidays. Kathy attributes the success of Inclusive Holidays as follows, "What we are good at doing is cutting out the hassle. People can just call us up, tell us what they want to do and their budget and we do the rest. There are no hidden costs. We draw on years of experience and knowing both our clientele and the islands really well."
In 1991 she employed Gill Dan who was bought up on Tresco and had also since married and moved to Bryher, and then offered her partnership in 2006. By then Kathy had ditched the typewriter in favour of computers and filing cabinets replaced the ironing board. A purpose built open plan office on Bryher with beautiful sea views was opened and Inclusive Holidays has employed several staff over the years, all island locals (some commuting by boat daily). After Kathy's retirement in April 2010 Gill has become sole proprietor. She hopes to take the business forward in the coming years, as she explains:
"We are expanding all the time and offering new services such as connecting flights from most UK airports, mainland accommodation the nights before and after travel to Scilly, off season breaks and group bookings. Our website has just been redeveloped and offers a range of interactive services as well as numerous images of the properties so you can see exactly what you are getting!"
Isles of Scilly Inclusive Holidays is currently run by two staff, Gill and her daughter Gem although currently Gem is very much part time due to the arrival of three children over the last 5 years!