Gem Hansen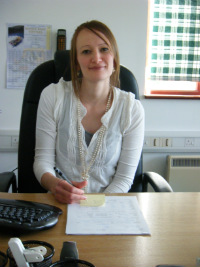 I am Gill's daughter. I was born in St.Mary's Hospital, and grew up on Bryher. I went to Tresco Primary School and then St.Mary's Secondary, Truro College and Reading University. I have been working for Inclusive Holidays for about 6 years and previously worked at Hell Bay on Bryher and the Island Hotel on Tresco.
I live with my husband who is a boatman on Bryher and we have been married for 10 years. I have three small children, Joseph, Leila and Willow but remain involved in the business from home, and with some part time hours in the office.
I enjoy working in the travel industry as I love travelling and have been to Europe, Las Vegas, New Zealand, Tobago, Australia, Mexico, Florida, Italy, the Canaries and the Bahamas. I enjoy yoga, summer barbecues on Samson and cricket on the beach. I ran the Tresco Marathon in 2008- lots of hills but definitely some of the most beautiful scenery of any course in the world.
My favourite things about Scilly are finding you have the beach all to yourself, and watching the sunset from Popplestones Bay.